Thank you to StartUp Canada, … (CANADA) and UpCity, … (USA) : 
CONGRATULATIONS! Joama Consulting Inc. has won an UpCity Best of Manitoba Award 2022!  &  UpCity Best of Announcement Post!
✍️
https://joamaconsulting.com/north-lasalle-st-chicago-il-upcity-%f0%9f%91%89-%f0%9f%8d%be-congratulations-joama-consulting-inc-has-won-an-upcity-best-of-manitoba-award-%e2%9c%8d%ef%b8%8f/
 MICOMA-1 MAI/ MAY 2023, => Winnipeg: 👉 Fort Garry Hotel & Nordwood Hotel
du lundi 22 au vendredi 26 mai 2023 – from Monday, May 22 to Friday May 26, 2023
=> MISSION ÉCONOMIQUE AU MANITOBA/ONTARIO – TRADE MISSION IN MANITOBA/ONTARIO
"WINNIPEG & OTTAWA": CONFERENCES, VISITS, B2B-B2C ET/AND AUDIENCES

** (Français)
Rencontres entre: ENTREPRENEURS, INVESTISSEURS, AUTORITÉS ET OPÉRATEURS ÉCONOMIQUES (AFRICAINS, CANADIENS ET AUTRES)
==> Contactez nous pour recevoir l'agenda général et autres informations

** (English)
Meetings between: ENTREPRENEURS, INVESTORS, AUTHORITIES AND ECONOMIC OPERATORS (AFRICANS, CANADIANS AND OTHERS)
==> Contact us to receive the general agenda and other information.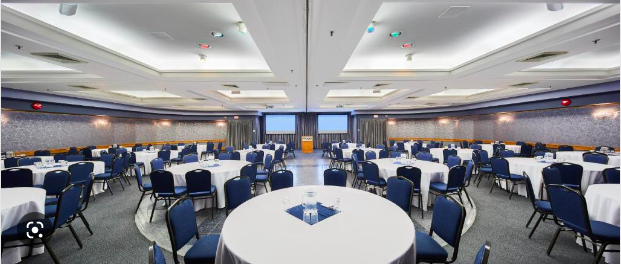 Enregistrez-vous maintenant! https://joamaconsulting.com/contactez-nous-2/ / Register now! https://joamaconsulting.com/en/contact-us/
* Pour connaître les coûts, recevoir la lettre d'invitation, la réservation de la chambre d'hôtel et l'agenda général.
==> Lire plus bas
* To know the costs, receive the invitation letter, hotel room reservation and the general agenda
==> Read below
FRANÇAIS
MICOMA-1-MAI 2023 (MISSION ÉCONOMIQUE AU MANITOBA/ONTARIO – TRADE MISSION IN MANITOBA/ONTARIO)
WINNIPEG (Manitoba) et OTTAWA (Ontario) : du lundi 22 au vendredi 26 mai 2023
=> Sont invités à participer :
Entrepreneurs, Investisseurs, Autorités et Opérateurs Economiques (Africains, Canadiens et Autres)

==================================================
ENGLISH
MICOMA-1 MAY 2023 (MISSION ÉCONOMIQUE AU MANITOBA/ONTARIO – TRADE MISSION IN MANITOBA/ONTARIO)
WINNIPEG (Manitoba) and OTTAWA (Ontario): From Monday May 22 to Friday May 26, 2023
=> Are invited to participate:
Entrepreneurs, Investors, Authorities and Economic Operators (Africans, Canadians and Others)
Voici les 12 secteurs principaux d'opportunité au Manitoba
Here are the 12 main sectors of opportunity in Manitoba
https://joamaconsulting.com/wp-content/uploads/2022/11/The-12-main-sectors-in-Manitoba.pdf
FRANÇAIS
ÉTAPE 1 – WINNIPEG (MANITOBA) 22-25 mai 2023
=> CONFÉRENCE – 'MICOMA-1 mai 2023
=> CONFÉRENCE sur l'énergie et la construction
=> Trouver des partenaires ou des investisseurs dans les 12 principaux secteurs d'opportunité au Manitoba (Visites, auditions, rencontres, puis tourisme)

ÉTAPE 2 – OTTAWA (ONTARIO) 26 mai 2023
=> Audiences, visites de courtoisie et informations sur les résultats obtenus auprès de partenaires ou investisseurs (Aux diplomates africains, délégués commerciaux et autorités canadiennes)

==========================================
ENGLISH
STAGE 1 – WINNIPEG (MANITOBA) May 22-25, 2023
=> CONFERENCE – 'MICOMA-May 1, 2023
=> CONFERENCE on energy and construction
=> Find partners or investors in the 12 main sectors of opportunity in Manitoba (Visits, auditions, meetings, then tourism)

STAGE 2 – OTTAWA (ONTARIO) May 26, 2023
=> Audiences, courtesy visits and information on the results obtained with partners or investors (To African diplomats, trade commissioners and Canadian authorities)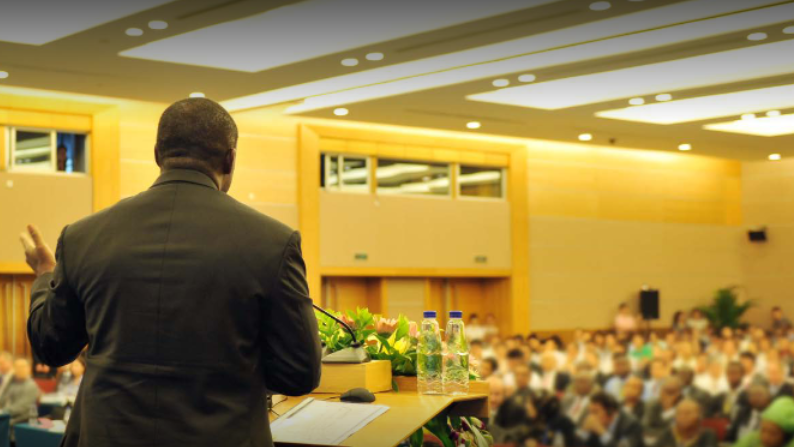 FRANÇAIS
POUR LES ENREGISTREMENTS DU CAMEROUN
(Pour connaître les coûts, recevoir la lettre d'invitation, la réservation de la chambre d'hôtel et l'agenda général)
=> Date limite d'enregistrement: 28 fevrier 2023 et le nombre de places est limité.

Contactez :
1/-Jacques NCHEHO,
Président-directeur Général-PDG, Africa Business Solutions-ABS
Tel: +237 673 396 161 / +237 699 987 070
Site: https://afribizsolutions.com/
ou
2/- Gaétan DOOZE,
Président-directeur Général-PDG, New Trade Center-NTC
Tel: +237 697 001 871 / +237 677 929 568 / +237 699 440 394
Site: https://newtradecenters.com/

3/-POUR LES ENREGISTREMENTS DU CANADA, AUTRES PAYS D'AFRIQUE OU AILLEURS
(Pour connaître les coûts, recevoir la lettre d'invitation, la réservation de la chambre d'hôtel et l'agenda général)

Contactez:
Jusin ONDO-ASSOUMOU,
Fondateur et Président-directeur Général-PDG, Joama Consulting / ECCA-MB, Echanges Commerciaux Canada/Afrique
Site: https://joamaconsulting.com/visite-de-prospection-2017/
Tel: +1 204 869 6652
Email: info@joamaconsulting.com

==========================================================

ENGLISH
FOR CAMEROON REGISTRATIONS
(To know the costs, receive the invitation letter, hotel room reservation and the general agenda)
=>Registration deadline: February 28, 2023 and the number of places is limited

Contact:
1/-Jacques NCHEHO,
Chief Executive Officer-CEO, Africa Business Solutions-ABS
Phone: +237 673 396 161 / +237 699 987 070
Website: https://afribizsolutions.com/
or
2/- Gaetan DOOZE,
Chief Executive Officer-CEO, New Trade Center-NTC
Phone: +237 697 001 871 / +237 677 929 568 / +237 699 440 394
Website: https://newtradecenters.com/

3/- FOR RECORDS FROM CANADA, OTHER AFRICAN COUNTRIES OR ELSEWHERE
(To know the costs, receive the invitation letter, hotel room reservation and the general agenda)

Contact:
Jusin ONDO-ASSOUMOU,
Founder and Chief Executive Officer-CEO, Joama Consulting / ECCA-MB, Canada/Africa Trade Mission
Website: https://joamaconsulting.com/en/prospecting-tour-2017/
Phone: +1 204 869 6652
Email: info@joamaconsulting.com
==========================================================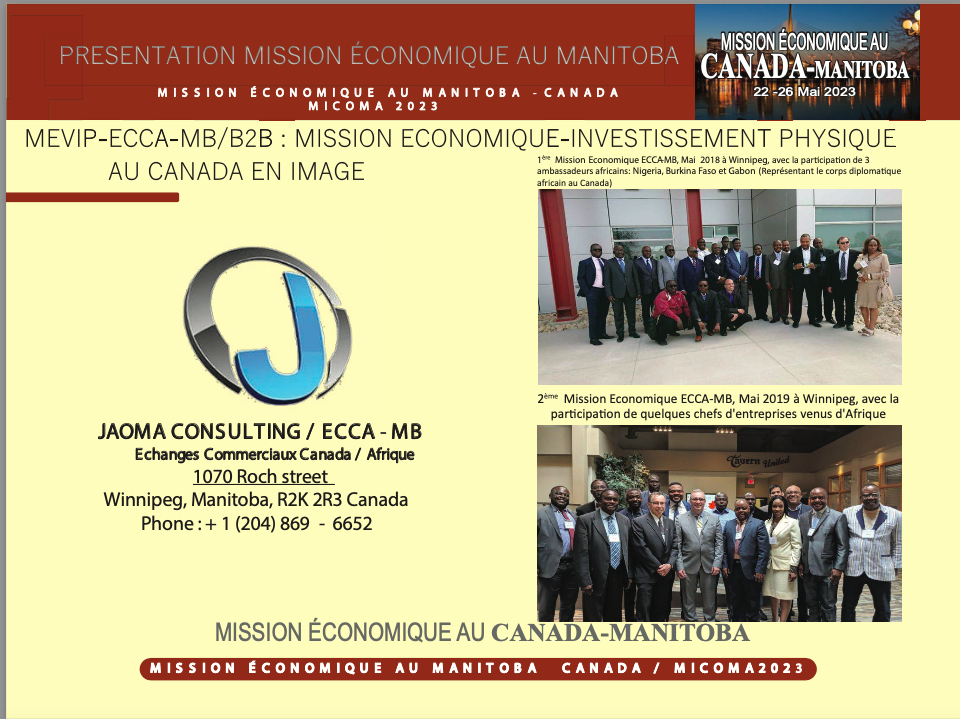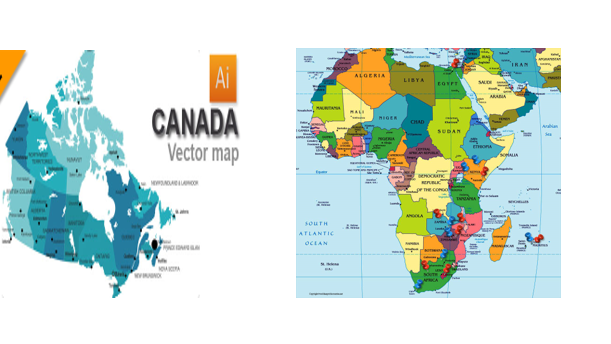 (ENGLISH) For your advertising in our professional blog, https://joamaconsulting.com/blog/ , our platforms or our show 'Joama Show', contact us to discuss, https://joamaconsulting.com/en/contact-us/ , or through info@joamaconsulting.com.
(FRANÇAIS) Pour votre publicité dans notre blog professionnel, https://joamaconsulting.com/blog/ , nos plateformes ou notre émission 'Joama Show', contactez-nous pour en discuter, https://joamaconsulting.com/contactez-nous-2/ , ou via info@joamaconsulting.com.
Shared by:/ Partagé par: Joama Consulting/ «Blog/Publicité/advertising»,   https://joamaconsulting.com/blog/, and sent to our local, national and international platforms / et envoyé vers nos plateformes locales, nationales et internationales : 
✍️
https://joamaconsulting.com/wp-content/uploads/2022/09/THE-12-PLATFORMS-UPD-4-Sept.-22-LES-12-PLATEFORMES-MAJ-DE-JOAMA-CONSULTING-ECCA-MB.pdf