"Nigeria election 2023: Who are the presidential candidates?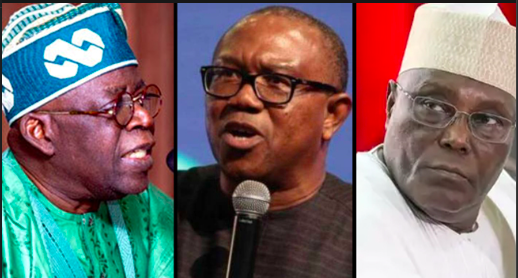 As the campaign period leading up to the February 25 presidential election neared its end, the ruling All Progressives Congress candidate Bola Tinubu and Atiku Abubakar of the opposition Peoples Democratic Party both held rallies to mobilize votes and increase their chances of winning in what appears to turn out to be a very close contest.
Labour Party candidate Peter Obi, who has emerged ahead of all other 17 candidates in most polls, meanwhile preferred to take to social media to reach out to his young, urban following.
Aware of the issues that will dominate the votes, Tinubu, Atiku and Obi have all promised to revive the battered economy and fight spreading insecurity as well as endemic corruption.
Read / Learn more: 
https://www.dw.com/en/nigeria-election-2023-who-are-the-presidential-candidates/a-64766561
(ENGLISH) For your advertising in our professional blog, https://joamaconsulting.com/blog/ , our platforms or our show 'Joama Show', contact us to discuss, https://joamaconsulting.com/en/contact-us/ , or through info@joamaconsulting.com.
(FRANÇAIS) Pour votre publicité dans notre blog professionnel, https://joamaconsulting.com/blog/ , nos plateformes ou notre émission 'Joama Show', contactez-nous pour en discuter, https://joamaconsulting.com/contactez-nous-2/ , ou via info@joamaconsulting.com.
Shared by:/ Partagé par: Joama Consulting-JC/ «Blog/Publicité/advertising»,   https://joamaconsulting.com/blog/, and sent to our local, national and international platforms / et envoyé vers nos plateformes locales, nationales et internationales : 
✍️
https://joamaconsulting.com/wp-content/uploads/2022/09/THE-12-PLATFORMS-UPD-4-Sept.-22-LES-12-PLATEFORMES-MAJ-DE-JOAMA-CONSULTING-ECCA-MB.pdf