ENGLISH
Sharing of: September 26, 2022
Welcome to Scotiabank Small Business Banking.

We're here to help your business thrive by achieving your goals as defined by you. Our team of Advisors and Specialists can help you by assessing your needs to provide you with relevant tools and resources, as well as leading products and services to support your daily business activities. We can also make referrals to our partners across Scotiabank to help you with all of your financial services needs. From expert Advice to Banking solutions and more, use the top navigation to find what you are looking for. Or, to find recommendations related to your industry, use the selector below in the Scotiabank Business Centre.
Read +:
👇
https://www.scotiabank.com/ca/en/small-business.html
FRANÇAIS
Partage du: 26 septembre 2022
Bienvenue aux Services bancaires aux petites entreprises.

Nous sommes là pour vous aider à assurer la prospérité de votre entreprise et à atteindre les objectifs que vous vous êtes fixés. Notre équipe de conseillers et de spécialistes peut vous appuyer dans l'évaluation de vos besoins et vous fournir les ressources et les outils pertinents, ainsi que les services et les produits de premier plan pour soutenir les activités de votre entreprise au quotidien. Nous pouvons également vous mettre en contact avec d'autres partenaires de la Banque Scotia pour répondre à tous vos besoins en matière de services financiers. Quels que soient vos besoins, des solutions bancaires aux conseis d'experts, vous trouverez ce dont vous avez besoin dans la barre de navigation au haut de l'écran. Pour accéder à des ressources liées à votre secteur d'activité, utilisez le menu du Centre de services aux entreprises ci-dessous.
Lire +:
👇
https://www.scotiabank.com/ca/fr/petites-entreprises.html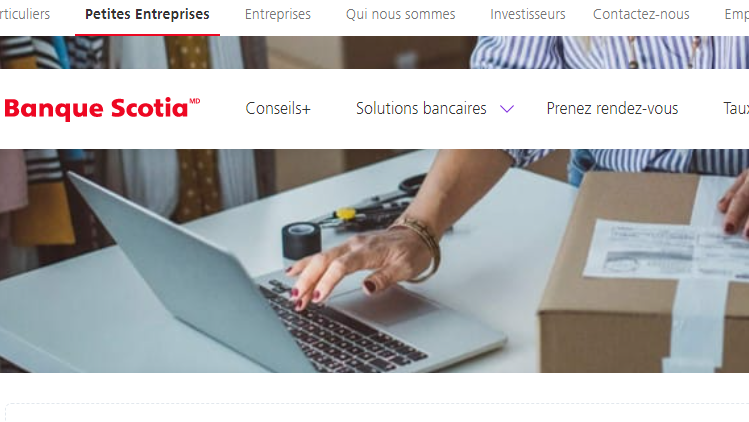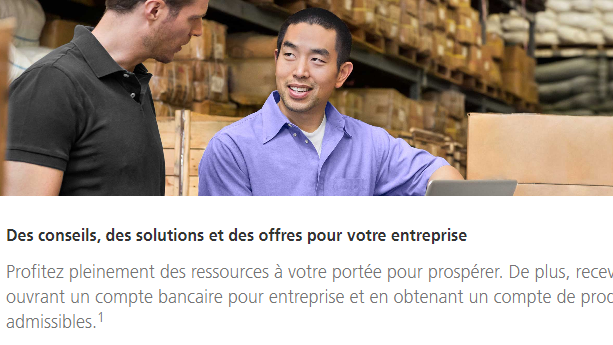 👉 (ENGLISH) For your advertising in our professional blog, https://joamaconsulting.com/blog/ , our platforms or our show 'Joama Show', contact us to discuss, https://joamaconsulting.com/en/contact-us/ , or through info@joamaconsulting.com.
👉 (FRANÇAIS) Pour votre publicité dans notre blog professionnel, https://joamaconsulting.com/blog/ , nos plateformes ou notre émission 'Joama Show', contactez-nous pour en discuter, https://joamaconsulting.com/contactez-nous-2/ , ou via info@joamaconsulting.com.