English
 Information published on: Sept. 7, 2022
"Property for Sale: Residential, industrial and commercial property for sale."

The City of Winnipeg is one of the largest land owners in Winnipeg, holding thousands of properties for civic use. The Real Estate Branch administers the sale and leasing of the City's property portfolio when civic properties become available. The Branch also acquires land on behalf of civic departments and performs various other real estate functions to serve the needs of the City.
Read more
👇
https://winnipeg.ca/ppd/CityProperty/property-for-sale.stm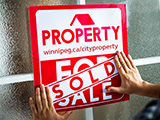 Français (Traduit de l'Anglais)
7 sept. 2022
"Biens à vendre: Biens résidentiels, industriels et commerciaux à vendre."
La Ville de Winnipeg est l'un des plus importants propriétaires fonciers à Winnipeg, et possède des milliers de biens réservés à des utilisations municipales. La Direction des biens immobiliers gère la vente et la location des biens de la Ville lorsque ceux-ci deviennent disponibles. La Direction s'occupe aussi de l'acquisition foncière au nom des services municipaux, ainsi que d'autres fonctions diverses liées aux biens immobiliers, selon les besoins de la Ville.
Lire plus
👇
https://winnipeg.ca/francais/ppd/CityProperty/default.stm