(ENGLISH)
"Africa Investment Forum 2022: Mobihealth CEO Funmi Adewara on what the USTDA grant means for the company and its strategic plans", 26-Oct-2022

USTDA Director Enoh Ebong (second from left) and Mobihealth CEO Funmi Adewara (center) during the signing of a grant agreement at the US Embassy in Abuja.
The $67 million Mobihealth Telemedicine Project is an innovative digital health transaction involving the establishment of a fully integrated telemedicine proprietary platform. It is one of eight deals, with a total value of nearly $5 billion, that were presented at the Africa Investment Forum's Virtual Boardrooms event held in March 2022. Presented under the 'Women as Investment Champions' pillar, these transactions involved entities either founded or led by women or with a significant gender impact.
In October 2022, Mobihealth Care Limited was awarded a grant by the United States Trade and Development Agency (USTDA)(link is external) for feasibility studies to assess a proposed regional expansion of telehealth services beyond Nigeria into Côte d'Ivoire, Ghana, Kenya, and Egypt. The studies will support Mobihealth's goal of reaching and treating at least one million patients within ten years. The grant funding was made possible by the support received from the Africa Investment Forum, which signed a Memorandum of Understanding in 2021 with USTDA to support high-quality infrastructure solutions for sub-Saharan Africa.
Read more:
👇
https://www.afdb.org/en/news-and-events/interviews/africa-investment-forum-2022-mobihealth-ceo-funmi-adewara-what-ustda-grant-means-company-and-its-strategic-plans-55793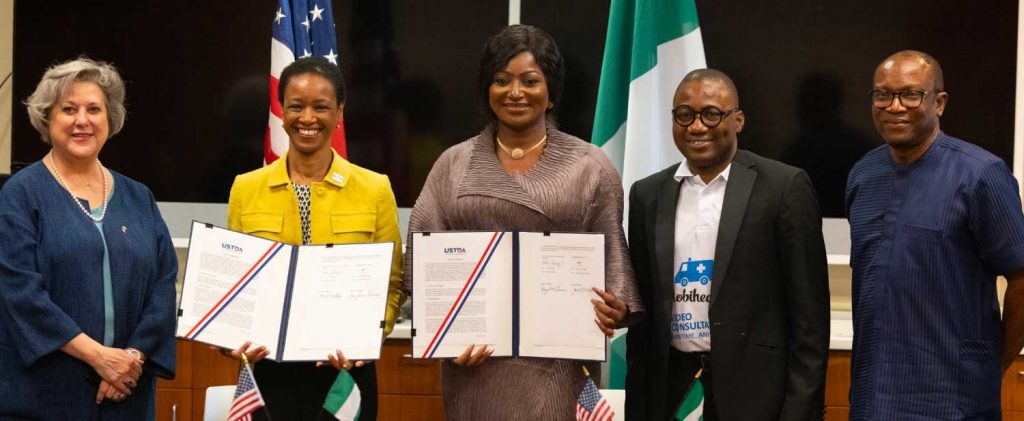 (FRANÇAIS)
"Africa Investment Forum 2022 : Funmi Adewara, PDG de Mobihealth, explique ce que la subvention de l'USTDA représente pour son entreprise et ses plans stratégiques", 26-oct-2022

Enoh Ebong, directrice de l'USTDA (deuxième à partir de la gauche), et Funmi Adewara, PDG de Mobihealth (au centre), lors de la signature d'un accord de don à l'ambassade des États-Unis à Abuja.
Le projet de télémédecine à 67 millions de dollars de Mobihealth est une opération de santé numérique novatrice, qui inclut la mise en place d'une plateforme brevetée de télémédecine entièrement intégrée. Il s'agit de l'une des 8 transactions, représentant près de 5 milliards de dollars au total, qui ont été présentées lors de l'événement Boardrooms virtuelles de l'Africa Investment Forum(le lien est externe), qui s'est tenu en mars 2022. Présentées dans le cadre du pilier « Les femmes sont des championnes de l'investissement », ces transactions portaient sur des entités fondées ou dirigées par des femmes, ou qui ont un impact significatif en matière d'égalité des genres.
En octobre 2022, Mobihealth Care Limited a reçu un don de l'Agence américaine pour le commerce et le développement (USTDA)(le lien est externe), destiné à conduire des études de faisabilité pour évaluer son projet d'expansion régionale de services de télésanté au-delà des frontières du Nigeria, en Côte d'Ivoire, au Ghana, au Kenya et en Égypte. Ces études vont venir appuyer l'objectif de Mobihealth d'atteindre et de traiter 1 million de patients au moins dans les dix ans à venir. C'est grâce à l'appui de l'Africa Investment Forum, qui a signé un protocole d'accord en 2021 avec l'USTDA pour soutenir des solutions d'infrastructure de haute qualité pour l'Afrique subsaharienne, que l'octroi de ce don a été rendu possible.
Lire plus:
👇
https://www.afdb.org/fr/news-and-events/interviews/africa-investment-forum-2022-funmi-adewara-pdg-de-mobihealth-explique-ce-que-la-subvention-de-lustda-represente-pour-son-entreprise-et-ses-plans-strategiques-55796
Contacts:
African Development Bank Group
Avenue Joseph Anoma
01 BP 1387 Abidjan 01
Côte d'Ivoire
 (ENGLISH) For your advertising in our professional blog, https://joamaconsulting.com/blog/ , our platforms or our show 'Joama Show', contact us to discuss, https://joamaconsulting.com/en/contact-us/ , or through info@joamaconsulting.com.
 (FRANÇAIS) Pour votre publicité dans notre blog professionnel, https://joamaconsulting.com/blog/ , nos plateformes ou notre émission 'Joama Show', contactez-nous pour en discuter, https://joamaconsulting.com/contactez-nous-2/ , ou via info@joamaconsulting.com.

Shared by:/ Partagé par: Joama Consulting-JC/ «Blog/Publicité/advertising»,   https://joamaconsulting.com/blog/, and sent to our local, national and international platforms / et envoyé vers nos plateformes locales, nationales et internationales : 
✍️
https://joamaconsulting.com/wp-content/uploads/2022/09/THE-12-PLATFORMS-UPD-4-Sept.-22-LES-12-PLATEFORMES-MAJ-DE-JOAMA-CONSULTING-ECCA-MB.pdf