ECCA May 2019-2nd Edition of the Economic Forum


(First forum between African and Canadian Entrepreneurs)
General Progrm-ECCA May 2019
MAY 15-17, 2019, Winnipeg-Manitoba/ CANADA 
* Nearly 50 confirmed and expected entrepreneurs from Africa including two economic operators out of almost 100 registered
* 10 Confirmed countries: Canada, USA, Cameroon, Burkina Faso, France, Nigeria, Togo, Mali, Benin and Gabon
* 16 sectors of activities:
1 / -Education, 2 / -Health and Clinical Care, 3 / -Building, Construction and Public Works, 4 / – Apiculture (Breeding), 5 / -Transport and Tourism, 6 / -Information and Communication Technologies, 7 / -Development of software and firmware, 8 / -Energy and environment, 9 / -Import-Export, 10 / -Engineering, 11 / -Mine and minerals, 12 / -General trade and Marketing, 13 / -Transport Customs / consignment / Commercial Representation, 14 / -Sales and Distribution of Cosmetics, 15/-Wine, liquor and food products, 16 / Economic Development Board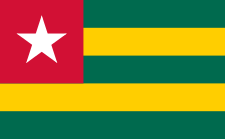 Togo         Cameroon       Mali       Burkina    Nigeria        Gabon      Benin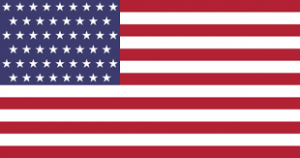 USA                France          Canada
Heads of Delegations and ECCA Correspondents:
1 / – Philippe Bagam Badamanossi Kakassina, Executive Director of TET SARL, Head of Delegation of Togo and Correspondent ECCA
2 / – Jean Basile Nziako, Managing Partner at Right Performance, Head of Delegation of Cameroon and Correspondent ECCA
3 / – Issa Mahamadou Maiga, Executive Director of Emergence Sarl, Head of Delegation of Mali and Correspondent ECCA
4 / – Alassane Kouanda, National President-General Confederation-SME of Burkina Faso, Head of Delegation of Burkina Faso and Correspondent ECCA
5 / – Joseph Kenneth Chinyereugo, Executive Director of Foblight Nigeria Limited, Head of Delegation of Nigeria and Correspondent ECCA
6 / – Sosthène Ngokila, Ambassador of Gabon to Canada, Head of Delegation of Gabon and Correspondent ECCA
7 / – The entrepreneur representing Benin will be introduced very soon
8 / -Joseph Ngon Bessing, NGO Drjosephblessing, Education Consultant-Motiv. Sp.-Life-Psycho, Arizona-USA Head of Delegation and ECCA Correspondent
9 / – Christelle Azizet, Founder / CEO of GrowUpAfrica, Representative of Lyon-France
10 / – The CDEM, Economic Development Council for Manitoba's Bilingual Municipalities, ECCA's lead partner with Manitoba and federal government entities.
In our forums, we organize the following activities:
* Consultation and Representation
* ECCA Economic Conference
* Networking, B2B and signing agreements
* Meetings and prospecting visits
* Audiences
* Advertising on its platforms
The ECCA-Canada / Africa Trade Mission Forum is a meeting place for economic activities, followed by tourist and cultural relaxation, organized by Joama Consulting, with the support of partners from governmental and private entities, in a city of Canada, mainly in Western Canada, or in Africa.
It enables Canadian, African and diverse entrepreneurs and economic operators to meet face-to-face, B2B, to discuss projects and create diverse partnerships for the benefit of their respective entities, with a view to concluding agreements and taking advantage of market opportunities.
Component – ECCA Conference / Theme:
ECCA- Conference Sched. ECCA May 15, 2019
"Grow with the economic and cultural diversity of Western Canada"
Wednesday, May 15, 2019 from 8:30am to 1:30pm:
Canad Inns Destination Centre Windsor Park,
1034 Elizabeth Road, Winnipeg, Manitoba, R2J 1B3
and 
Component – Trade Exchanges ECCA-Exhibition Tables + 'B2B' Round Tables + Lunch
ECCA May 16, 2019- Roundtables B2B
Thursday, May 16, 2019, from 8:30am to 1:30pm:
Multipurpose room at St. Boniface Cathedral,
180 Cathedral Avenue, Winnipeg, Manitoba, R2H 0H7
Then
Component – ECCA Visits+ Audiences+ meetings,
in production sites of companies:
Wednesday, May 16 (in afternoon) and Friday, May 17, 2019
Component – ECCA cultural evening:
ECCA May 16, 2019- Djely Tapa Concert
Concert of the famous African-Canadian, the Malian singer Djely Tapa, introduced on the stage by the Franco-Manitoban duo Gen + Tonic,
Thursday, May 16, 2019 from 7 pm to 9 pm
in the multipurpose room of St. Boniface Cathedral,
180 Cathedral Avenue, Winnipeg, MB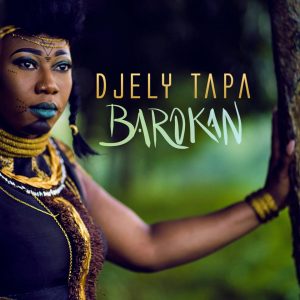 Component – ECCA tourist visits:
Visit to the Canadian Museum for Human Rights
Friday, May 17, 2019

One-time registration fee : $ 275 CAD 
* This fee includes meals, local travel and all event programs
Make reservations: Your audiences, your showroom, and brochure-Forum ECCA May 2019 (Click below)
OPTIONS ET RESERVATIONS-ECCA MAI 2019
* In case of no entry visa to Canada, 70% refund of registration fee
BOOK YOUR HOTEL ROOM
(Limited number of places)
Option 1: Canad Inns Destination Centre Windsor Park
1034 Elizabeth Rd, Winnipeg, MB R2J 1B3
Tel: +1(204) 253-2641
Guest Services: guestserviceswp@canadinns.com
'Sajal Bhattarai' : sbhattarai@canadinns.com

Option 2: The Fort Garry Hotel
222 Broadway, Winnipeg, MB R3C 0R3
Tel: +1(204) 942-8251 / Toll Free: 1-800-665-8088
Reservations: reservations@fortgarryhotel.com

In case of necessity, contact us at this address:
Joama Consulting/ECCA
323 Riverton Avenue
Winnipeg, Manitoba, R2L ON5
Tél: (204) 869-6652
Email: info@joamaconsulting.com
Canada
Here are some sectors of activities:
1-Advanced Manufacturing, 2-Aerospace, 3-Agribusiness, 4-Creative Industries, 5-Education, 6-Energy and Environment, 7-Financial Services, 8-Information and Communication Technologies, 9-Life Sciences, 10- Mining and Minerals, 11-Tourism, 12-Transportation and Distribution.
—————————————————–
In September 2018, we participated in this first event:

** First Economic Forum of Burkina Faso to Canada,
Montreal, September 13 to 14, 2018
http://ccafrica.ca/events/
 JOAMA CONSULTING / ECCA was invited

—————————————————–
REPORTS:
** 1st EDITION ECCA-CANADA-AFRICA TRADE MISSION 14-16 MAY 2018
ECCA-Report ECCA WPG May2018
** 1ST ECONOMIC FORUM OF BURKINA FASO IN CANADA-MONTREAL SEPT 13-14. 2018
Rapport-2–Repres-wtcw-1FEBFC
—————————————————–
** BELOW IN PICTURES, THE FIRST EDITION

ECCA – WINNIPEG, MANITOBA, MAY 14-16, 2018
Theme of the ECCA Conference May 2018:
Invest in my country
        
MINISTERS OF MANITOBA / VISITS TO COMPANIES / INSTITUTIONS / CONFERENCE

  

MINISTERS OF THE GOVERNMENT OF MANITOBA


HON. BLAINE PEDERSEN, MINISTER OF GROWTH, ENTERPRISE AND TRADE


HAD RECEIVED IN MEETING WITH:
-THE  NIGERIA HIGH COMMISSIONER TO CANADA, H.E. ADEYINKA OLATOKUNBO ASEKUN
-THE AMBASSADOR OF BURKINA FASO TO CANADA, S.E. ATHANASE BOUDO
– THE AMBASSADOR OF GABON TO CANADA, S. E. SOSTHÈNE NGOKILA
(CONDUCTED BY THE PRESIDENT AND C.E.O OF ECCA / JOAMA CONSULTING, JUSTIN ONDO ASSOUMOU AND BY THE EXECUTIVE DIRECTOR OF CDEM, LOUIS ALLAIN)
           
The guest Special was:



HON. ROCHELLE SQUIRES, MINISTER OF SUSTAINABLE DEVELOPMENT, MINISTER RESPONSIBLE FOR FRANCOPHONE AFFAIRS AND THE STATUS OF WOMEN
REPRESENTATIVE OF THE GOVERNMENT OF MANITOBA AT ECCA CONFERENCE
WINNIPEG INTERNATIONAL AIRPORT – JAMES ARMSTRONG RICHARDSON (ARRIVAL AND DEPARTURE)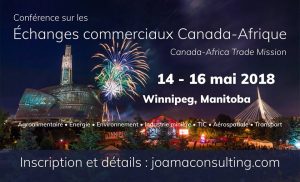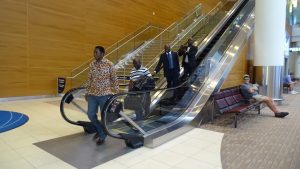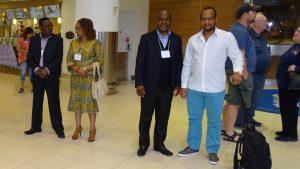 VISITS TO COMPANIES
1-MEETING IN MANITOBA HYDRO WITH THE PRESIDENT AND C.E.O
        
2- MEETING AT FOOD DEVELOPMENT CENTRE WITH 3 SENIOR MANAGERS



                


3-MEETING AT FORT GARRY FIRE TRUCKS WITH PRESIDENT AND C.E.O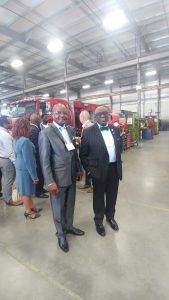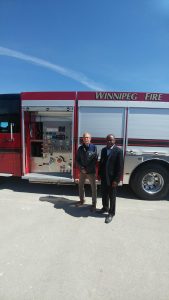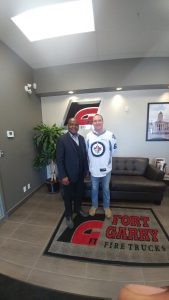 4- MEETING IN INNOVATION COMPOSITES CENTRE WITH THE PRESIDENT AND C.E.O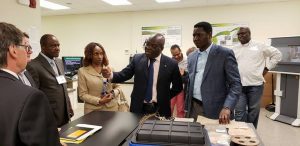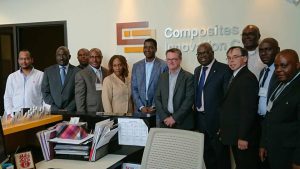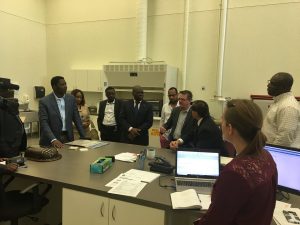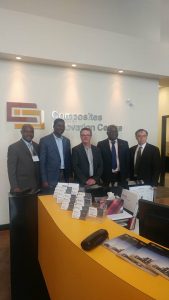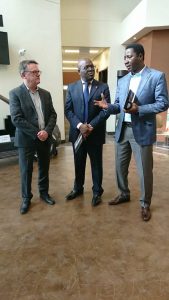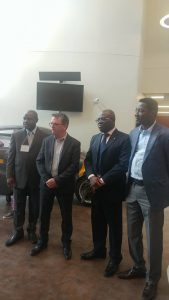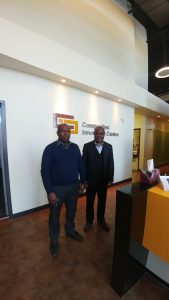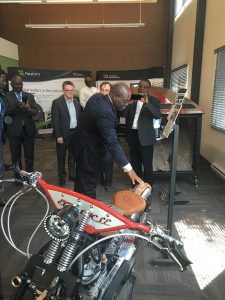 5-ECCA CONFERENCE AT THE FORT GARRY HOTEL (PHOTOS TO BE COMPLETED)


                              
6-MEETING AT CDEM WITH THE EXECUTIVE DIRECTOR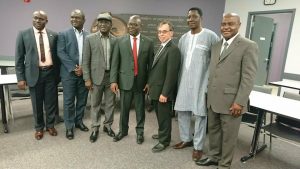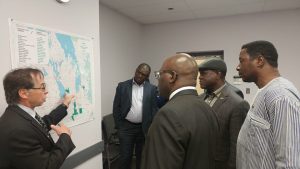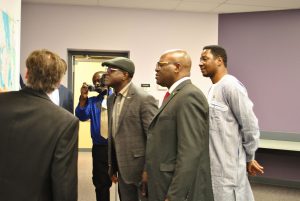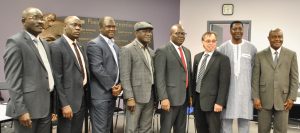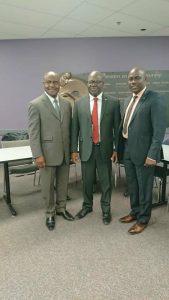 7-MEETINGS AT WORLD TRADE WINNIPEG CENTRE WITH THE PRESIDENT AND C.E.O

        
8-LUNCH AT UNIVERSITY OF SAINT-BONIFACE AND AT YE'S BUFFET
           
9-TOURIST VISIT TO THE CANADIAN MUSEUM FOR HUMAN RIGHTS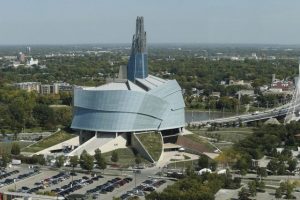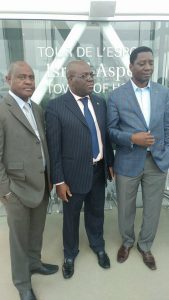 (Canada/Africa Trade Mission)