ECCA-MB
CANADA / AFRICA TRADE MISSION FROM MANITOBA.
ECCA-MB ECONOMIC FORUM JUNE 2020-CANADA


DATES AND LOCATION WILL BE COMMUNICATED LATER
(ECCA-MB IS TEMPORARILY HOSTED HERE PENDING THE CONSTRUCTION OF ITS SITE)
Founders                         Team                      Board Members                              Honorary Members (Canada/Africa)                      Partners
** Canada has significant leading industries in all regions and appropriate professionals. Canada also has the confidence, the competence, the reliability of its products and services, …
** Africa is a vast continent with 54 countries in cultural and economic diversity, owns raw materials, natural resources, skilled labor, availability,…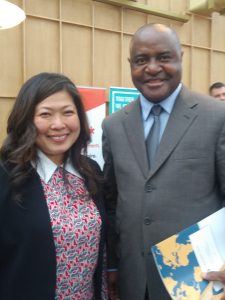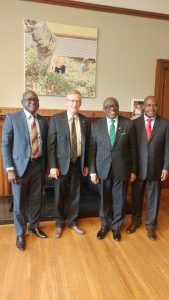 With Min. Jim Carr        With Min. Mary Ng           With Min. Blaine Pedersen
Fed. Gvt Canada            Fed. Gvt Canada               Gvt Manitoba
ECCA-MB INC., Canada / Africa Trade Mission from Manitoba, Canada, is a non-profit organization. It replaces ECCA which was one of the services of Joama Consulting.
ECCA-MB's role is to promote, research, create and maintain business opportunities among entrepreneurs, investors and other economic operators in Manitoba / Canada and Africa.
These achievements are made through 5 main services called P.R.M.F.C.O., abbreviation in French, with the support of Joama Consulting, board members, partners, sponsors and collaborators in Canada and Africa:
ECCA-MB, Canada/Africa International Online Platform-Placement of members' projects
Representations in Africa and Canada of ECCA-MB via Chambers of Commerce
Linking Manitoban / Canadian and African Businesspeople
ECCA-MB Economic Forums in Canada and Africa
Conferences on the promotion of products and services of its Manitoban / Canadian and African Members
ECCA-MB Charities in Canada and Africa
FOR MORE INFORMATION AND CONTACT:
info@joamaconsulting.com
NOTES: 
* The Founder and CEO of Joama Consulting / ECCA-MB is privileged to be connected online with Canada's largest network of international trade professionals located in over 160 cities in Canada and around the world.
* This connection makes it possible to place projects and information in an appropriate network after evaluating its reliability.
* The experience and knowledge of the culture of the Canada-Africa bilateral business community, the ECCA-MB team and Joama Consulting are two important assets.
———————————————————————- ECCA ACTIVITIES UNTIL MAY 2019 ————————————————————————-
ECCA May 2019-2nd Edition of the Economic Forum


(First forum between African and Canadian Entrepreneurs)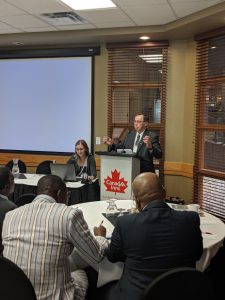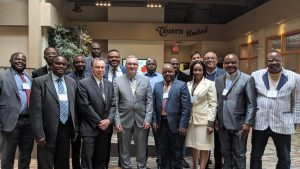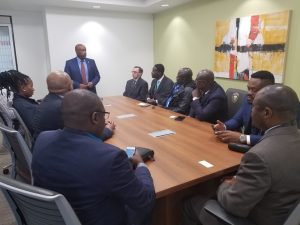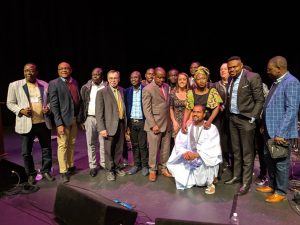 Executive Director of CDEM/ CEO of World Trade Centre Winnipeg / CEO & Vice President of M&C Commodities / CEO of Manitoba Chambers of Commerce & Senior Account Manager of EDC + Representative of FDC/ Deputy Mayor of Winnipeg/ CEO of Bee Maid Honey/ CEO of Solara / CEO of CMHR/ Djely Tapa group
* Nearly 50 confirmed and expected entrepreneurs from Africa including two economic operators out of almost 100 registered
* 10 Confirmed countries: Canada, USA, Cameroon, Burkina Faso, France, Nigeria, Togo, Mali, Benin and Gabon
* 16 sectors of activities:
1 / -Education, 2 / -Health and Clinical Care, 3 / -Building, Construction and Public Works, 4 / – Apiculture (Breeding), 5 / -Transport and Tourism, 6 / -Information and Communication Technologies, 7 / -Development of software and firmware, 8 / -Energy and environment, 9 / -Import-Export, 10 / -Engineering, 11 / -Mine and minerals, 12 / -General trade and Marketing, 13 / -Transport Customs / consignment / Commercial Representation, 14 / -Sales and Distribution of Cosmetics, 15/-Wine, liquor and food products, 16 / Economic Development Board
In our forums, we organize the following activities:
* Consultation and Representation
* ECCA Economic Conference
* Networking, B2B and signing agreements
* Meetings and prospecting visits
* Audiences
* Advertising on its platforms
The ECCA-Canada / Africa Trade Mission Forum is a meeting place for economic activities, followed by tourist and cultural relaxation, organized by Joama Consulting, with the support of partners from governmental and private entities, in a city of Canada, mainly in Western Canada, or in Africa.
It enables Canadian, African and diverse entrepreneurs and economic operators to meet face-to-face, B2B, to discuss projects and create diverse partnerships for the benefit of their respective entities, with a view to concluding agreements and taking advantage of market opportunities.
Component – ECCA Conference / Theme:
ECCA- Conference Sched. ECCA May 15, 2019
"Grow with the economic and cultural diversity of Western Canada"
Wednesday, May 15, 2019 from 8:30am to 1:30pm:
Canad Inns Destination Centre Windsor Park,
1034 Elizabeth Road, Winnipeg, Manitoba, R2J 1B3
and 
Component – Trade Exchanges ECCA-Exhibition Tables + 'B2B' Round Tables + Lunch
ECCA May 16, 2019- Roundtables B2B
Thursday, May 16, 2019, from 8:30am to 1:30pm:
Multipurpose room at St. Boniface Cathedral,
180 Cathedral Avenue, Winnipeg, Manitoba, R2H 0H7
Then
Component – ECCA Visits+ Audiences+ meetings,
in production sites of companies:
Wednesday, May 16 (in afternoon) and Friday, May 17, 2019
Component – ECCA cultural evening:
ECCA May 16, 2019- Djely Tapa Concert
Concert of the famous African-Canadian, the Malian singer Djely Tapa, introduced on the stage by the Franco-Manitoban duo Gen + Tonic,
Thursday, May 16, 2019 from 7 pm to 9 pm
in the multipurpose room of St. Boniface Cathedral,
180 Cathedral Avenue, Winnipeg, MB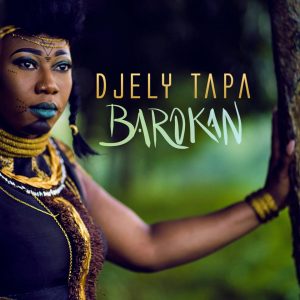 Component – ECCA tourist visits:
Visit to the Canadian Museum for Human Rights
Friday, May 17, 2019

One-time registration fee : $ 275 CAD 
* This fee includes meals, local travel and all event programs
Make reservations: Your audiences, your showroom, and brochure-Forum ECCA May 2019 (Click below)
OPTIONS ET RESERVATIONS-ECCA MAI 2019
* In case of no entry visa to Canada, 70% refund of registration fee
BOOK YOUR HOTEL ROOM
(Limited number of places)
Option 1: Canad Inns Destination Centre Windsor Park
1034 Elizabeth Rd, Winnipeg, MB R2J 1B3
Tel: +1(204) 253-2641
Guest Services: guestserviceswp@canadinns.com
'Sajal Bhattarai' : sbhattarai@canadinns.com

Option 2: The Fort Garry Hotel
222 Broadway, Winnipeg, MB R3C 0R3
Tel: +1(204) 942-8251 / Toll Free: 1-800-665-8088
Reservations: reservations@fortgarryhotel.com

In case of necessity, contact us at this address:
Joama Consulting/ECCA
323 Riverton Avenue
Winnipeg, Manitoba, R2L ON5
Tél: (204) 869-6652
Email: info@joamaconsulting.com
Canada
Here are some sectors of activities:
1-Advanced Manufacturing, 2-Aerospace, 3-Agribusiness, 4-Creative Industries, 5-Education, 6-Energy and Environment, 7-Financial Services, 8-Information and Communication Technologies, 9-Life Sciences, 10- Mining and Minerals, 11-Tourism, 12-Transportation and Distribution.
———————————————————————- ECCA ACTIVITIES UNTIL SEPTEMBER 2018 ————————————————————————-
In September 2018, we participated in this first event:

** First Economic Forum of Burkina Faso to Canada,
Montreal, September 13 to 14, 2018
http://ccafrica.ca/events/
 JOAMA CONSULTING / ECCA was invited

—————————————————–
REPORTS:
** 1st EDITION ECCA-CANADA-AFRICA TRADE MISSION 14-16 MAY 2018
ECCA-Report ECCA WPG May2018
** 1ST ECONOMIC FORUM OF BURKINA FASO IN CANADA-MONTREAL SEPT 13-14. 2018
Rapport-2–Repres-wtcw-1FEBFC
—————————————————–
** BELOW IN PICTURES, THE FIRST EDITION

ECCA – WINNIPEG, MANITOBA, MAY 14-16, 2018
Theme of the ECCA Conference May 2018:
Invest in my country
        
MINISTERS OF MANITOBA / VISITS TO COMPANIES / INSTITUTIONS / CONFERENCE

  

MINISTERS OF THE GOVERNMENT OF MANITOBA


HON. BLAINE PEDERSEN, MINISTER OF GROWTH, ENTERPRISE AND TRADE


HAD RECEIVED IN MEETING WITH:
-THE  NIGERIA HIGH COMMISSIONER TO CANADA, H.E. ADEYINKA OLATOKUNBO ASEKUN
-THE AMBASSADOR OF BURKINA FASO TO CANADA, S.E. ATHANASE BOUDO
– THE AMBASSADOR OF GABON TO CANADA, S. E. SOSTHÈNE NGOKILA
(CONDUCTED BY THE PRESIDENT AND C.E.O OF ECCA / JOAMA CONSULTING, JUSTIN ONDO ASSOUMOU AND BY THE EXECUTIVE DIRECTOR OF CDEM, LOUIS ALLAIN)
           
The guest Special was:



HON. ROCHELLE SQUIRES, MINISTER OF SUSTAINABLE DEVELOPMENT, MINISTER RESPONSIBLE FOR FRANCOPHONE AFFAIRS AND THE STATUS OF WOMEN
REPRESENTATIVE OF THE GOVERNMENT OF MANITOBA AT ECCA CONFERENCE
WINNIPEG INTERNATIONAL AIRPORT – JAMES ARMSTRONG RICHARDSON (ARRIVAL AND DEPARTURE)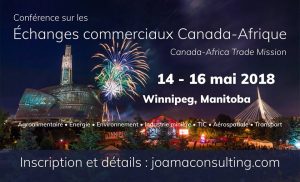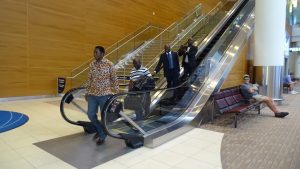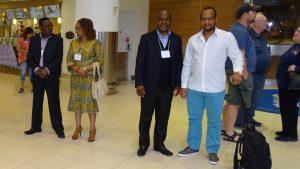 VISITS TO COMPANIES
1-MEETING IN MANITOBA HYDRO WITH THE PRESIDENT AND C.E.O
        
2- MEETING AT FOOD DEVELOPMENT CENTRE WITH 3 SENIOR MANAGERS



                


3-MEETING AT FORT GARRY FIRE TRUCKS WITH PRESIDENT AND C.E.O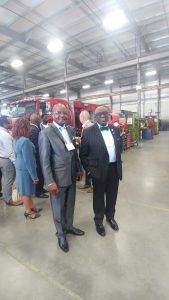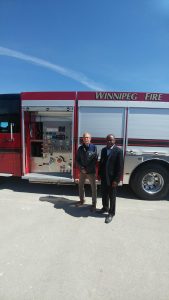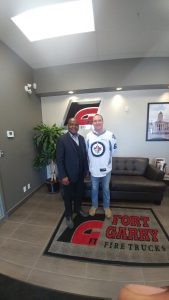 4- MEETING IN INNOVATION COMPOSITES CENTRE WITH THE PRESIDENT AND C.E.O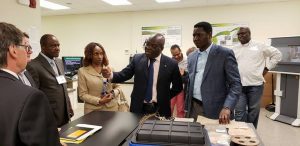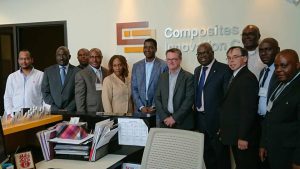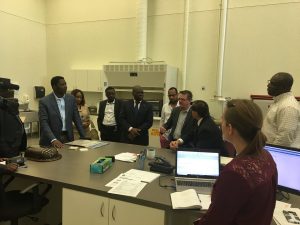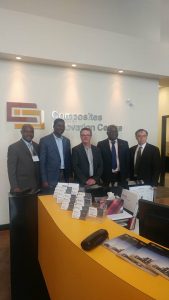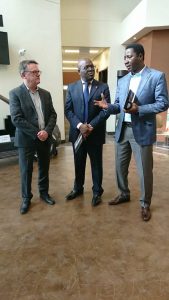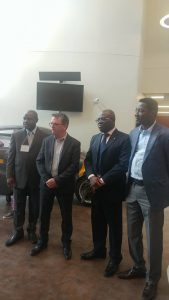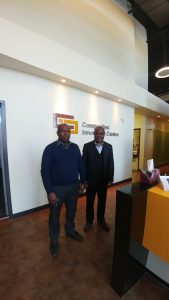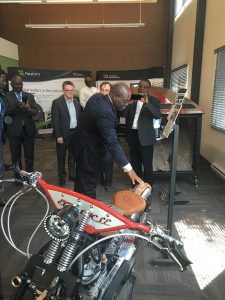 5-ECCA CONFERENCE AT THE FORT GARRY HOTEL (PHOTOS TO BE COMPLETED)


                              
6-MEETING AT CDEM WITH THE EXECUTIVE DIRECTOR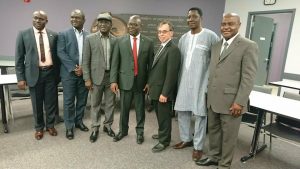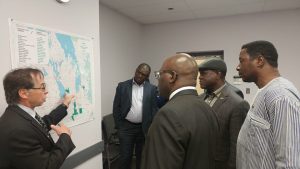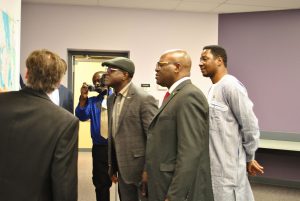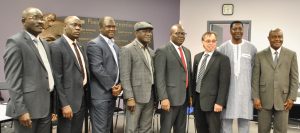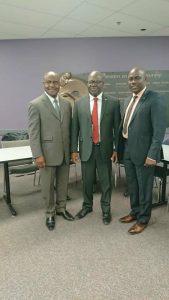 7-MEETINGS AT WORLD TRADE WINNIPEG CENTRE WITH THE PRESIDENT AND C.E.O

        
8-LUNCH AT UNIVERSITY OF SAINT-BONIFACE AND AT YE'S BUFFET
           
9-TOURIST VISIT TO THE CANADIAN MUSEUM FOR HUMAN RIGHTS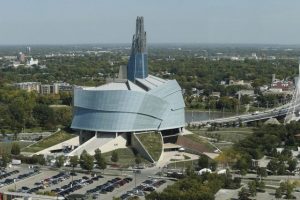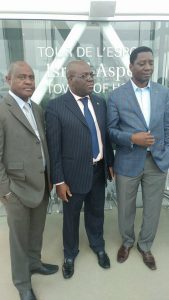 (Canada/Africa Trade Mission)